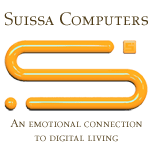 Wall Street Journal

Inconspicuous Consumption: Hiding the Plasma TV
by Andrew LaVallee

February 1, 2007

Homeowners Begin to Treat Flashy Electronics as Eyesores; Speakers Disguised as Sconces

(excerpt)....Suissa Computers of Thornhill, Ontario, launched in September with a variety of limited-edition, wood-encased PCs that range from the deconstructed, contemporary "Revolution" to "Yasuko," a $6,400 piece of hardware that wouldn't look out of place on a mantel.

The idea behind the products, says Howard Suissa, the company's 37 year-old president, is to "create something that people would want to showcase as a device in a living room." The systems are assembled to order, he says, using Intel and Advanced Micro Devices chips, Nvidia video cards, Seagate Technology hard drives and other well-known providers. Suissa also offers ornamental detailing, such as a PC inlaid with white gold and five carats of diamonds, which recently sold for about $25,000, according to Mr. Suissa.

"They're signed, they're numbered. They're not only computers or functional systems, but works of art," he says. Still, he added, the wait for Microsoft Corp.'s Windows Vista slowed sales, since some customers held off PC purchases until the new operating system launched....